On Thursday March 30th, with much appreciated financial assistance from Lookout Valley Lions Club, Lookout Valley Tool & Machine, LuLaRoe, Melissa Steele LuLaRoe, YMCA and fund raisers including a bake sale, thirteen LV students ventured to Nashville to participate in the 64th annual Tennessee Youth in Government conference. All of them made a good showing in their endeavors at the conference but some proved exemplary!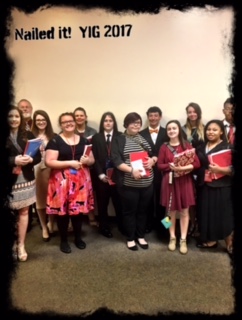 James Kilgore, Nathan Hart, Eric Pham, Kadijah Tinker and Kacey Melton participated in the Blue House while Brittany Cothern and Hannah Andrews were representatives in the Red House. Four LV students, Sydney Brock, Libby Johnson, Alex Spence and Scarlett Hamrick represented our school in the Red Senate which is the most difficult of the legislative branches.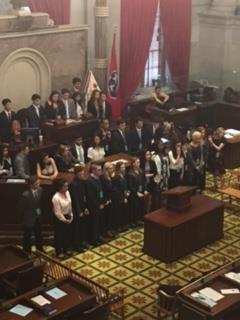 Kadijah, Eric and Kasey had their bill passed from committee for consideration by the Blue House while Libby and Sydney had their bill passed to the Red Senate Floor. Unfortunately the conference adjourned on Sunday before either came up for consideration. Scarlett and Alex were more fortunate. Their bill, seeking to have all students tested for gifted upon entering the school system, was not only passed, but was signed by the governor.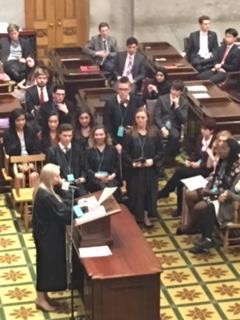 Cherish Shown and Lucas Wright served spectacularly as associate justices on the Supreme Court. Cherish will return next year to that same position but Lucas was given the honor of being chosen by his peers to be the Chief Justice of next year's court .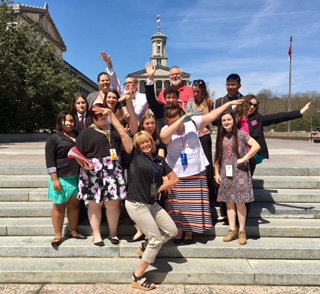 While all came back exhausted from the weekend, their experience left them excited and already planning for next year. Congratulations are in order for all of the participants with special congratulations to Scarlett, Alex, Cherish and Lucas for their sterling accomplishments.